Kestrel's Nicki Gilbert to Ride for England
11 years ago
Miami and Basildon based Nicki Gilbert, Head of Corporate Customer Services for the Kestrel Group as well as others, has been picked to ride for England in July 2012.
Nicki who specialises in Long Distance riding under Endurance GB regularly takes part in races over 100 KM on her Arab race horse LM Funny Girl.
Races start early in the morning and continue all day ending in the evening, some continuing into the next day.
She leaves on 18th July for Ireland where the 2 day 120KM race ride will take place in County Wicklow, against strong opposition from Ireland, Wales and Scotland.
She has also been targeted by Team GB and will take part in specialist team training in November with a view to joining the Team GB squad for 2013.
Nicki has been competing in endurance racing for many years and to be picked for England is something everyone at Kestrel, JSA and Baltic and European are extremely proud of.
Nicki said, "To represent my country at a sport I love dearly is a dream come true. I am extremely nervous as I am sure you can imagine, but can't wait to get there and compete."
Andy Thorne Group Chairman said, "Nicki will approach this challenge in the same way that she approaches everything. – She will give it 110 per cent and we are so very proud of her."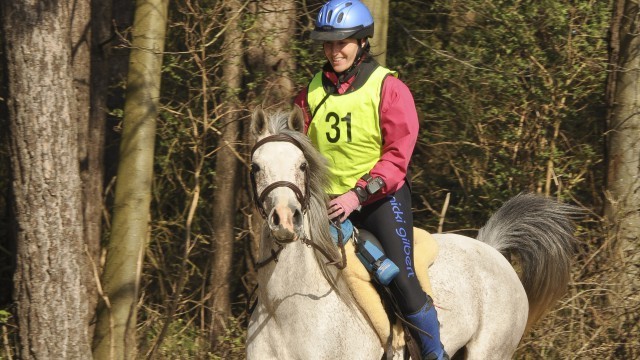 Nicki on board LM Funny Girl at the team selection ride in May.